The question, 'Are you beach body ready?' has been definitively answered by  the women of the world, even gaining media support. In terms of size, we are always beach body ready with minimal preparation because we have bodies, and they are always ready to have fun on the beach! But what about age – are we ever too old to wear a bikini?
A few weeks ago, Morning TV presenter Lorraine Kelly (who is 55 years young) made headlines when she took part in a photo shoot wearing a bikini and enjoying every minute in an attempt to encourage middle-aged and older women to do the same.
Lorraine danced to 'Moves Like Jagger' on her TV show, alongside other bikini-clad women, as part of her 'Bikini Promise' challenge, a project with which she is trying to get members of the public to work out, get in shape and wear their bikinis with positivity and pride.
Hundreds of people took to Twitter to support her.Lorraine revealed on her show that according to study run by catalogue retailer isme.com three years ago, a staggering 70% of their customers believe that women should stop wearing bikinis at the tender age of 39!
In answer to the survey, Italian celebrity and ex-girlfriend of ex-England manager Sven-Göran Eriksson, Nancy Dell'Olio told the press: "It's about how they look and feel, not about an age limit. And it's about how confident you are. You can look in the mirror at the age of 20 or 25 and think you don't look nice in a bikini. Or you can be 55 and have a body much better than you did when you were 25.
"It's true that some young girls shouldn't wear a bikini. But you can be more beautiful aged 50 to 80 than you might have aged 20 to 30," she declared.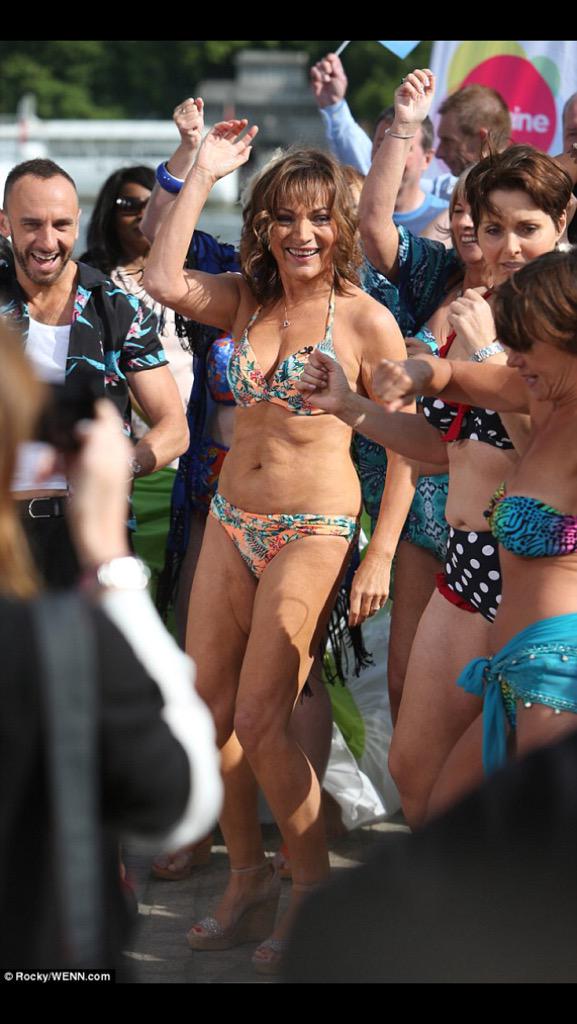 Etiquette expert William Hanson on the other hand feels women should banish the bikini when they reach 50.
"There needs to be a cut-off point,' he insisted. "I'm not talking from a man's point of view, but from the point of view of etiquette. As a society we like rules. Most women over the age of 50 don't look as good as younger people in bikinis. Their skin has lost its suppleness. To have a clear rule that says at 50 everyone should wear a one-piece would mean that we would all know where we are.
'In the privacy of their own home, women can wear what they like. But out in public, they should cover up. Some women are deluded," he went on. "Men too. They should cover up at 50 as well – I'm all for equality."
So, what do you think? We think women should wear what they like when they like providing it isn't hurting others. We all have skin, most of us don't look like supermodels so why don't we simply embrace our differences and enjoy our bodies while we have them?
photo credit: