To celebrate 100 years of swimwear, we get to discover 100 years of a concepts, attitudes, designs and techniques. The decade 1940 to 1950 was all about Mould and Control, according to a brilliant new exhibition taking place in London this summer. 

Fashion was feminine and celebrated female curves and voluptuousness in the 40s and 50s. Women were not stick-thin, and their clothes accented their figures, especially their waists. And none more so than the corset. Manufacturers at the time began to use corsetry techniques to design swimwear which sculpted the body, following its curves and accentuating femininity. This is definitely Planetfem's favourite era!
Dr Christine Boydell is the curator of the exhibition, entitled, Riveria Style. Taking place at the Fashion and Textile Museum, it gives the public a chance to really learn about the varied nature of a fashion style we love to love or love to hate – swimwear and how it followed the cultural trends of each era.  "A lot of manufacturers, including Symington, promoted the fact that they had corsetry specialists designing swimwear," says Christine.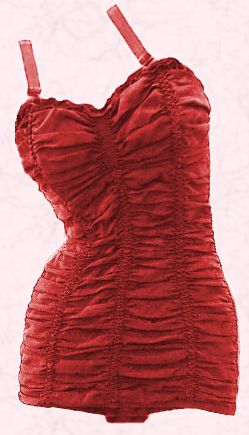 Elastic and Lastex – a combination of elastic yarn and other yarns like satin and cotton had been invented. Similar to Lycra, Lastex created a two-way stretch. These materials had actually been invented in the thirties, however, swimwear manufacturing had naturally stopped during the second world war as it wasn't an essential material or product.
The two-piece swimsuit was revived – modesty a slight concern – but the onus was on the accentuation of shape.
Beauty contests were taking off and in 1965, Diana Westbury wore a swimsuit by R & WH Symington when she was crowned
You can still catch the exhibition if you hurry. It runs until 29 August at Fashion and Textile Museum in London.
photo credit: Pinterest
story credit: adapted from Lingerie Insight